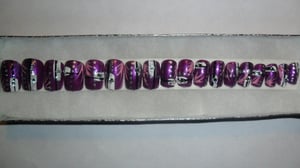 $

18.00
Set of 20 predesigned nails in short square shape. Features handpainting and swarovski crystal detailing. 2 each of sizes 0-9 to fit small to medium fingers. Comes secured in a clear view gift box with nail file and orangewood stick.
Directions for use
1. Wipe nails with nail polish remover or alcohol to remove any natural oils
2. Gently push back cuticles from nail bed with orangewood stick
3. Lightly buff nail bed to increase adhesion
4. Fit false nail to nail bed. You may need to shape the false nails cuticle area with emery board to customize fit.
5.Place a drop of nail glue on nail bed and secure nail. Alternatively nail tabs may be used for temporary wear. With glue nails can be worn up to 2 weeks.